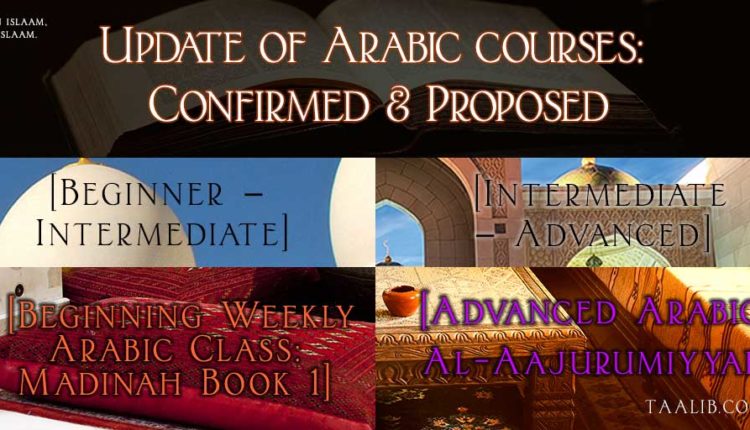 Update of Arabic courses: Confirmed & Proposed
Alhamdulillah, as of today  there are two confirmed Arabic classes for women and two proposed classes which will not begin until there are sufficient students enrolled.
The two confirmed Arabic classes are:
Announcing the continuing Women's Arabic Course [Beginner – Intermediate]
Announcing the NEW Women's Arabic Course [Intermediate -Advanced]
The two proposed Arabic classes are:
Announcing a NEW Women's Arabic Course [Beginning Weekly Arabic Class: Madinah Book 1]  This course is confirmed!
Announcing a NEW Women's Arabic Course [Advanced Arabic: Al-Aajurumiyyah]  [Based on sisters enrollments requests this class is not presently scheduled, but may be in the future.]
Each page has further information about the specifics and level of that class
IMPORTANT STEPS TO CONFIRM CLASS ENROLLMENT
If you want to enroll in one of the confirmed courses after completing the course fee here on taalib.com please send a letter to courses@taalib.com with:
Your Name & Email (the email used for WizIQ)
Title of course for enrollment
New or continuing student
Order ID for payment from the email you received when you paid through the Taalib storefront
BarakAllaahu feekum.
QRCode:
Related Posts: