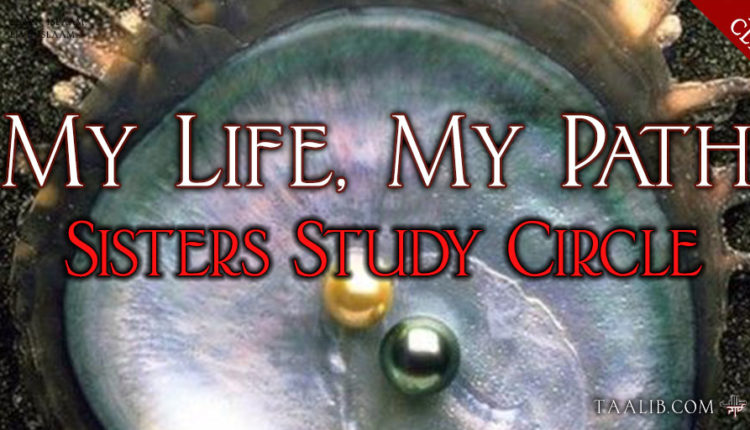 My Life, My Path Sisters Study Circle
If  you are interested in enrolling in this class contact us at arabic@taalib.com. This class can not be payed for through the cart.
This will be an ongoing course built around, but not limited to, Umm Mujaahid's My Path series. The goal is to create a circle of women striving to live Islaam to the fullest at whatever stage of life or position each individual finds herself. We will cover topics such as rights and responsibilities of the Muslim woman throughout her life, the process of getting married as well as marriage itself, creating a truly Islamic household, raising and teaching children, seeking knowledge, physical, mental, and spiritual well-being, community, and more. As with all of Umm Mujaahid's classes, all information shared will be based upon the Qur'aan and Sunnah as understood and lived by the Pious Predecessors, and those who have followed them in nobility and knowledge throughout the ages. We will utilize the works of the scholars of Islaam from the past and present, and gauge everything within the guidelines and through the lens of Islaam.
The monthly subscription price will include a weekly class on Saturdays at 11:00 am CST, as well as a moderated forum in which students can take part, asking questions, sharing projects and experiences, and building a support community, insh'Allaah.
The size of the circle will be limited in order to keep it manageable, insh'Allaah. If the class fills up, there will be rolling enrollment wherein students can enter at a later date if a spot opens up, insh'Allaah.
In order to make the circle accessible to as many women as possible, we are implementing a monthly pay-what-you-can system. We would like to ask you to assess your ability to pay honestly, knowing that the cost of these classes supports the teacher's family, alhamdulillah.
Cost: $30.00/month, payable at the beginning of each month. Sisters in the same household listening under the same WizIQ id can pay for a single spot.
Time: Saturdays at 11:00 am CST
Beginning Date: March 3, 2018
Sponsor a fellow Muslimah: Pay what you can towards allowing one of your sisters to be a member of the circle. Sisters in need may contact me concerning a reduced rate or scholarship, insh'Allaah.
Note: You must have a WizIQ account to participate in classes. Please let me know your WizIQ related address and screen name when enrolling in classes.
To enroll, or if you have any questions regarding this or any other classes, please contact me at arabic@taalib.com
Please help us to spread the word about these and our other classes, insh'Allaah.
---
If  you are interested in enrolling in this class contact us at arabic@taalib.com. This class can not be payed for through the cart.
QRCode:
Related Posts: